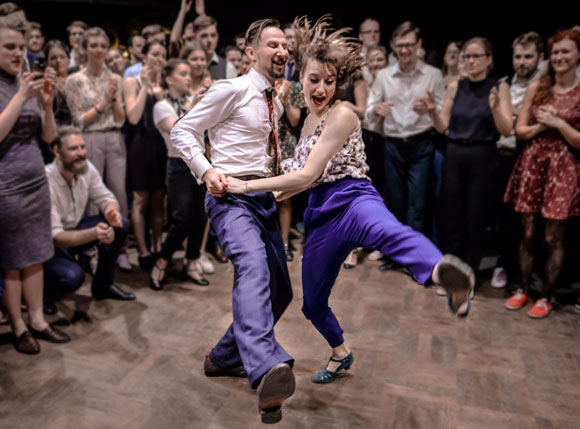 Pamela Gaizutyte
Pamela Gaizutyte, from Vilnius, Lithuania, has been dancing since she was 5 years old. She danced traditional Lithuanian folk dancing for years, until she found her passion in lindy hop at the age of sixteen. In 2009, she began working at Hoppers' Dance Studio in her hometown of where she surrounds herself with rhythm on a daily basis as she practices, performs, and teaches lindy hop and vernacular jazz. She is one of the most exciting followers to burst onto the international swing scene in recent years. Her creativity, personal style and sense of musicality are an inspiration. Pamela enjoys spreading the joy of dance and sharing her knowledge, and is excited to travel to new and faraway places to do so.
Martynas Stonys
Martynas Stonys is a leader in the Lithuanian swing dance scene. He combines fun, great teaching, dance technique and helps you enjoy dancing more than ever!
"I always try to make classes fun, starting with something basic, so less experienced students can catch up, and then adding more advanced movements and variations, so everyone learns something new."
"I always make sure both leaders and followers receive the same amount of attention. Lindy Hop is a dance for two people. It is so much more fun when both partners are dancing, and not just leading or following."
Elzė Višnevskytė
Elzė Višnevskytė comes from Vilnius, Lithuania. She has been dancing a variety of dances since she was 6, from old renaissance to traditional folk dances, until she discovered Lindy Hop – or maybe it was Lindy Hop that found her.
Later on she spent many hours discovering the world of solo jazz.
Elzė spent a lot of time acting in theatre, so she takes a part of theatre to her dancing and improvisation. She values creativity, authentic way of dancing, musicality and playfulness and spreads it to her students.